Ok thanks for waiting a day for my post. So this week on White Room Challenge we had the biggest challenge yet. The wall-less challenge. Not only did we not have walls, we did not have furniture. Nothing…. we basically had a framed out 10 x 10 space. So it's surreal to watch and realize how much I missed because I was in such shock. So when we walked in and meet David, let me just tell you I really had no idea what he said other than "Welcome to the White Room Challenge," and "wall-less" challenge. My mind was running a hundred miles a min, I didn't even catch where we were shopping (at some point I asked if we were going to a wall store) I was super excited that after we finished the intro filming and knew our challenge (because trust me you wonder for weeks whats coming) that we were going to be shopping at Nicks Metropolis. I'm from LA and have shopped there before, but basically it's a antique, prop- junk store full of amazingness. HOWEVER, for those who have shopped LA for antiques and such you know this stuff is not cheap. This is not craigslist, this is a store, shopped by many production companies. When you have a high demand for this stuff like LA, the prices go up. Basically that means that $1000 does not go far, and thats all we had for budget. Oh and don't forget our paint and anything we get on set to build our room comes from that $1000 as well. That put lots of exciting items from Nick's simply out of budget. (David said he was disappointed in us for this but budget is budget, so we had to buy cheaper stuff and turn it into amazingness) That being said lets get on to the reviews and info you did see…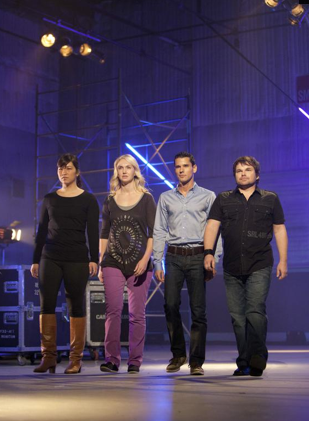 Our challenge was the wall-less challenge, create a sense of enclosure without building walls. We needed to give the feeling of our room type (bedroom, dining, living and office) but it doesn't have to be functional. Think way outside the box, and we were going to be judged on how imaginative and ingenious our designs were though the use of our collectables. So here we are, Jennifer Glickman the sweet Interior Designer from Boston. Love her to death, she owns her own design company and lately from her twitter it looks like she's been working on a lot of restaurant designs. Me, I'm a freelance designer, with an undergrad in fashion design and later went on to complete courses in interior design. I worked on the first 2 seasons of Secrets From a Stylist and just recently got hired by Anthropologie as their home department manager. David Slivinski, the New York interior designer who designs for clients with unlimited budgets. Last, Mark Griffin he went back to school for interior design and he's a hair dresser as well.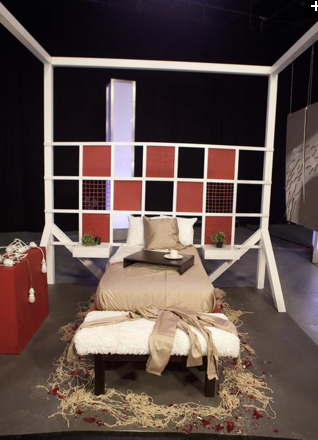 Now onto the reviews. Jen's constructed deconstruction bedroom. Ok it's harder to review when you know the designers on these spaces, but I am going to try to look at these rooms with a critical eye. I really didn't know what Jen was doing the entire challenge, I was painting my floor in my room day 1 and she spent most of day 1 in the work room. Her room was still empty day 1 except for the grey floor she painted. I do know from talking to her that she completely spec'd the platform bed for her carpenter. It's impressive she can design furniture like that on the fly. The platform bed looked like something you could buy in a store, but that was also the problem, it looked like something you could buy in a store. Our challenge was to be imaginative and ingenious, and although impressive, it was at the end of the day, a well built platform bed. She cut apart stools and wicker furniture to make the headboard but alas it was still a headboard. Put that headboard in a model home on an actual wall with her floating nightstands and it could be a pretty moment. In this room however, it wasn't working. When Jen realized she designed WAY to literal it was too late so she got upset and threw spaghetti all over her floor, ok not really… but had she have said this was a room of a child with an crazy italian mother I would have been onboard. David Bromstad hit the nail on the head when he said her room never became as great as the ideas in her head and Jenn takes 4th.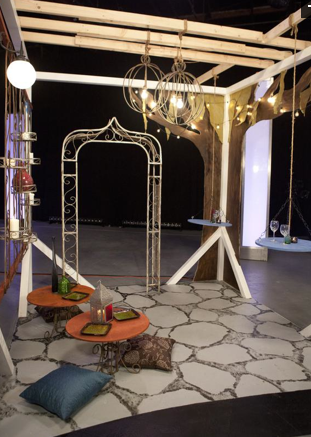 Mark's outdoor dining room. Ok here something funny I don't remember when he painted that floor. His floor was grey like Jens's most of the time and I don't remember seeing him paint the flagstone pattern… so sneaky you are Mark. Ok so Mark's aesthetic was the closest to mine and based on his purchases I originally thought he was going to be the biggest competition. In fact Marks room is just as pretty if not prettier than Monica's from the salvaged episode, and she won that episode. If someone had this in their backyard everyone would be loving it. I do agree he could have had more pillows but I don't remember any pretty pillows being available in the stock room. The lightly is moody. The way he painted that floor with cardboard cutout templates was genius. The arch is just as it was in at Nicks he didn't repurpose it he simply placed it in his room. He made the the tables and the wall scrolly stuff. He hung those cute tables, he did mention to me later that he was worried I would think he copied my hanging chairs when he hung his tables, because I actually hung mine first BUT he totally didn't copy me. My intention was the chairs were falling… not hanging pretty like his tables. So overall a very pretty space, but also pretty real world and although his space was my favorite after my own… it didn't take the concept far enough and Mark takes 3rd.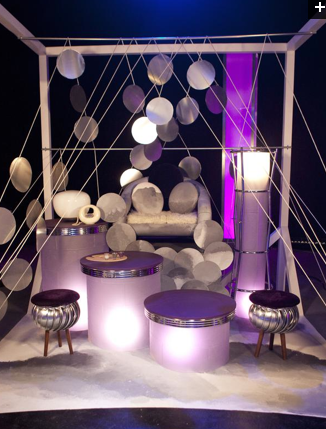 David's "think tank," office. Ok I have to admit I never actually heard David's concept while we were working I just saw his space. I LOVE the concept of the think tank / thought bubble. The concept is super creative, and there are a lot of creative moments in his room… David's super funny, creative and totally one up'd my doodling comment. I just have to say I'm not a fan of the overall design. I think I called his room "80's Vegas on a Cruise Ship." David managed to take 50's diner tables and turn them into a crazy 80's light up steps leading up to a throne. He used the base of the tables to make that light in the back. He turned whirlybird vents into stools of some sort. And don't forget the bedazzled spider web. I love David's creativity… and his concept… but I think he could have edited the room a little more. His aesthetic is so far removed from mine, I can appreciate his creativity I just can't say I'm in love with the actual design. David takes home runner up.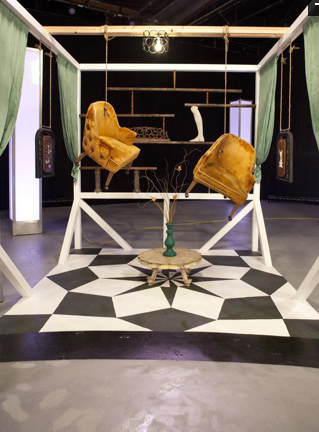 Ok onto my room. Of course this review is going to be a tad longer. I am going to try to touch on all the stuff I did that didn't show up on the show. Ok first off the floor, yep I drew that out with a pencil a ruler and a string to make the circles. I painted it freehand by edging, I didn't tape it out because I wanted to save time, and I kinda designed it as I went. I just started in the middle and worked my way out. The back wall was done with furniture legs and then I saw a mannequin so I incorporated the mannequin leg as well… I love me a good appendage. Ok so something you didn't see is I made that coffee table. It looked like this when I bought it…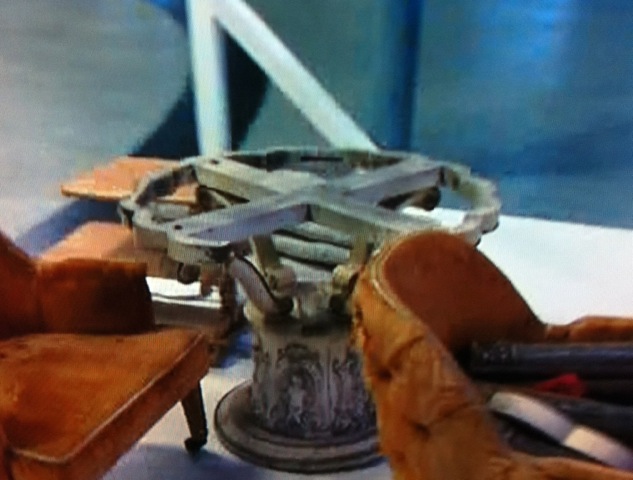 It was some kind of weird greek inspired pedestal thingy. My carpenter and I cut the base and the legs off, I flipped the legs so that they were coming out of the center so it could stand up without the greek base, repaired the broken edge, and cut out a new top out of MDF. Then I used a combination of spray paint, stain and I even burned the top a little to age it like the base. I was super excited for the finished coffee table.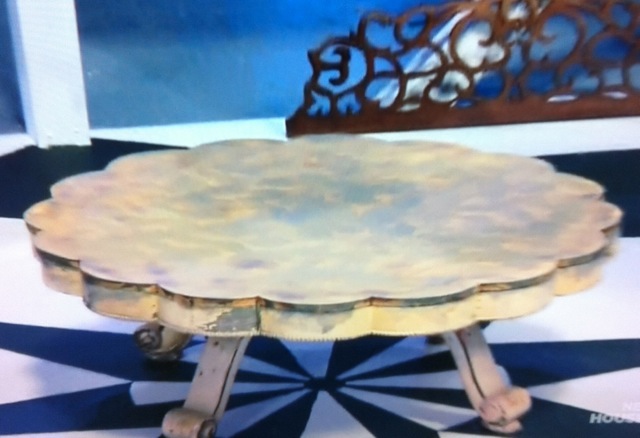 It went from bad greek, to neato Alice in Wonderland. So to clear things up I didn't just buy the table and throw it into the room. That is also why I didn't smash it like the judges suggested. I appreciate the suggestions BUT the idea wasn't that everything came crashing down the rabbit hole… it was just falling. I liked the disorientation of the chairs juxtaposing the quite moment of the coffee table. If I could go back and change it… I wouldn't… I stand by that decision. Maybe Meg got the idea from her room when she broke her table during the last min in her White Room Challenge…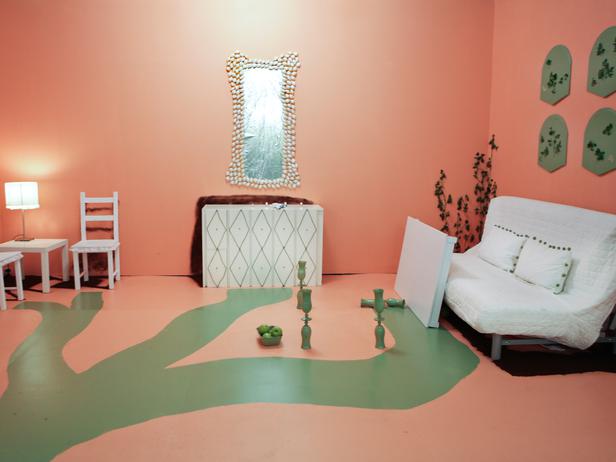 Yep sorry Meg had to do it. You were pretty hard on my room, and I appreciate good criticism, but I have to beg to differ. You felt like I didn't follow though and wished I would have hung everything. Believe me I thought about it, but I wanted the juxtaposition, I didn't want it to seem like I came up with a great idea and ruin it by taking it too far and making my room seem like one note. So we can agree to disagree on that one, I still love your show and your designs and respect your critiques. Jamie Durie's critique about my drapes I felt was kinda a complement in a weird way. He thought my drapes were too predictable for "me," so I guess he was expecting me to come up with a more creative idea for my side wall-less walls. What you didn't see is that those weren't drapes. It was just white cotton fabric I got in the stock room. I cut and sewed a pocket into the top so I could hang it like drape and I dyed it by pooring my green paint into a bucket with water and dipped my drapes into the water. I put the drapes into the room because my room needed color, it wasn't a cop out as a way to create a sense of enclosure… but I can see how you could think that not knowing where those drapes came from… so now you know 🙂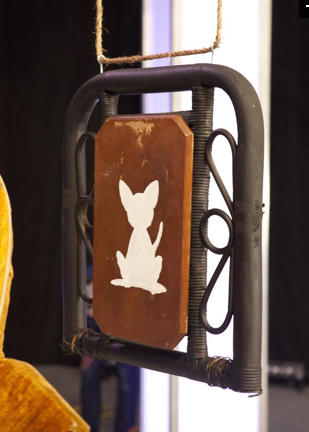 What else did you miss… oh yes remember Mark criticizing me for buying a sofa?? He thought it was too conventional. Well yes I bought a crazy 60's rattan sofa… I happen to love rattan if it's used correctly, but it didn't end up end up being a sofa, I cut the back off and used it as my art. The wood element came from a wine rack I bought and disassembled for parts. I painted a white chihuahua as a play on the white rabbit… because I have a chihuahua and this was my wonderland room after all.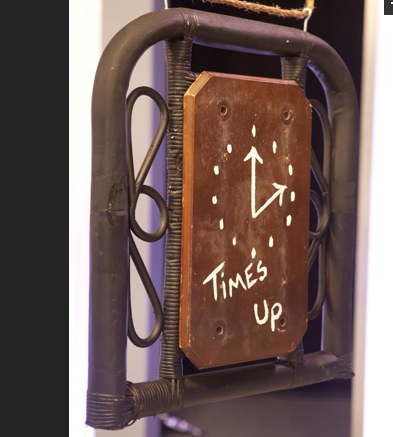 Same idea on the other items, only I painted a clock as a play on the white rabbit's pocket watch and the fact that we were timed in our challenge. Kinda cheesy yes but I needed a reason why I did everything so I could defend it at judging if I needed too. The one thing I would have changed in my room is the light. I originally wanted to make a chandelier but I wasn't going to have time as it wasn't on the highest priority of what my room needed. I did that ugly little light fixture in the last hour of the challenge… I didn't address lighting in my room at all and thought I wash going to be questioned about it. I didn't think I needed lighting, the studio lights lit up my room fine, and in reality my room was a rabbit hole, so there wouldn't be lighting, but I second guessed myself and hung that stupid lightbulb with the pathetic shade made out the the rings from the wine rack. So thats my ugly moment, David called me out on it, but that got edited out.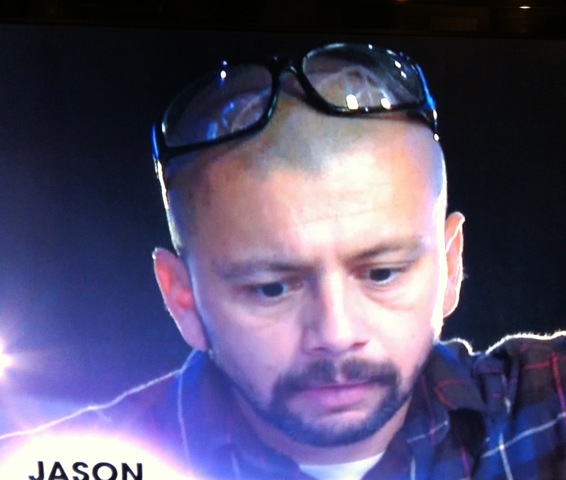 Last, I'm going to give a huge shout out to my carpenter Jason. He was amazing!! I couldn't have done it all without him, although I would have tried. Something funny is we matched on day 2, both wearing plaid… because I love me some plaid. I do say on camera I have a slight obsession with lumberjacks but I guess that was too weird and got edited out. I also said in the beginning, "I'm Rebecca a designer from Vegas who's not afraid to get my hands dirty…. I'm the dirty girl from Las Vegas…." it was a totally joke everyone was laughing and would had been funny but alas the second part got edited out… Oh well my snarky comments get edited off tv, BUT I edit my own blog so I shall share them here… 🙂
Phew thats a long post… so thoughts… comments… what did everyone think!!
-Bex