Ok well on Design Star, it's called the White Box Challenge, the spin-off series is called White Room Challenge. (which I am excited to say is filming season 2 as we speak!) Either way, I love reviewing this challenge. I've been there, done that, so no excuses in my book. Here's the thing, these designers auditioned for Design Star and therefore knew (unless they are the unlucky 1st to go) that this challenge was coming. There is no excuse for not having a concept!! So with that being said, lets get onto the reviews!!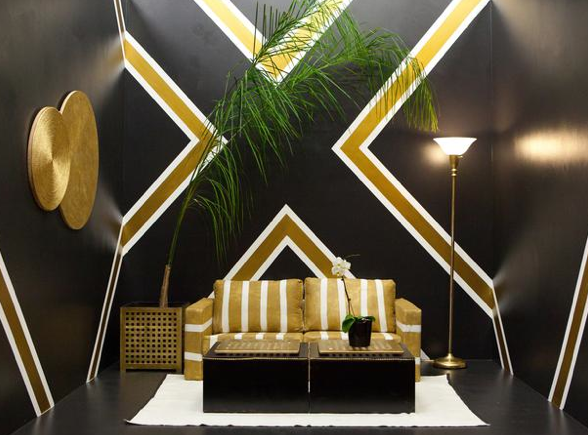 Up first, Danielle.  It's a nice room. The graphic is pretty. I do love black and I like the gold. I just wish there was another color involved. Like a surprise hot pink, or something…something to get me excited. Nothing is really repurposed. I think part of the challenge was to take an item and turn it into something else. Well I see a sofa, coffee table end table and lamp. It looks like she may have tuned her side table into her coffee table… Nothing is really wowing me. You can tell from this space she has a good eye. I understand why she placed the ugly lamp to the right of the sofa. The X graphic is intentionally not centered and she wanted to fill the vertical space to the right of the sofa. Doing so helps balance the space. It's too bad what she had was that lamp. She probably could have pulled it off if she had changed the shade. It's ok Danielle I had an ugly light in my white room, it happens. The judges really ripped you on the lamp, but at the end of the day it's just a lamp. I do wish you would have done something to the floor to make it appear different from the walls. Overall nice job.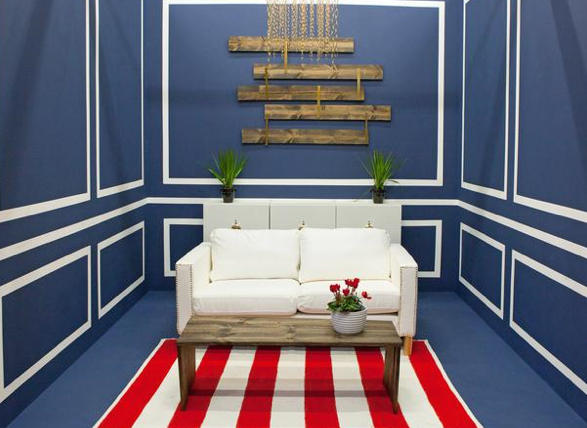 Up next Britany. It's another taped painted wall graphic. (Oh man was there a lot of blue tape happening, not just in Britany's room in every room) Ok so it's safe. I really wanted a huge graphic "Britany special" but instead we got a play on wainscoting. It's been done before (Nina season 5 did something similar) It's pretty and makes an impact on camera but it's predictable and I don't think Britany's design style is predictable. Again the walls blend into the floors. The coffee table is, well it's a coffee table. It's nice but I want a wow. Her wow moment was the neat chandelier she created with gold chains and a lattice end table. That was a pretty moment Britany. It reminds me of a chandelier Emily Henderson did for a Pinterest Challenge. Here she is being super cute and wearing it as a skirt.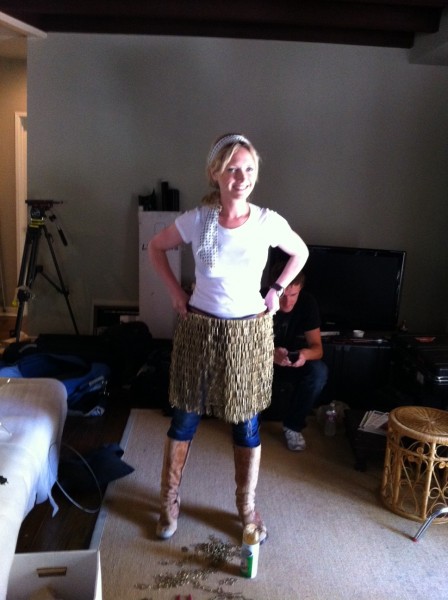 So nice job Britany. I can't wait to see more. So far it's two very blue rooms… I know you have way more up your pretty little sleeves.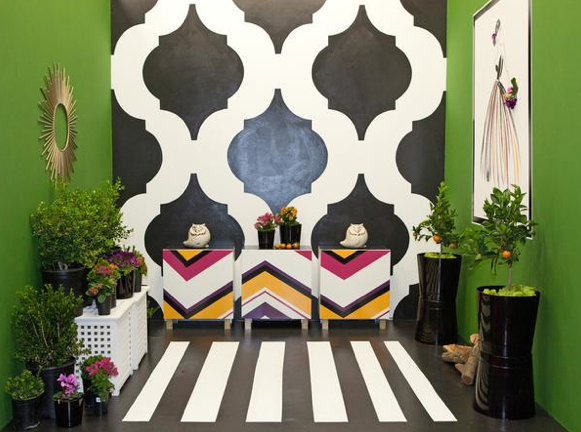 Rachel, what can I say you knocked it out the park. You took the painted wall graphic to a new level and I thank you. I do want to know how many paint colors you guys got!!?? On my White Room Challenge we got 3, and I purchased Emerald Green, black and white. I see my color pallet in your room but you popped it with pink, purple and yellow. The use of pattern is superb and current. The Moroccan tile inspired black and white graphic mixed with an irregular chevron and then finished up with a black and white stripe. Love it. I too have a fashion design background and I like your  freehanded fashion lady. I love all the plants, it's a tad overkill, but that could also be due the fact they are in their plastic pots and not pretty pots. (which totally isn't your fault, budgets and time factor in on this) I would have liked to see the pots maybe dipped inpaint… just to give them a bit more detail.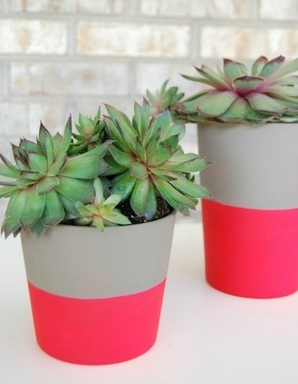 Like these. Just a thought. Overall good job Rachel. You got the win and I 100% agree.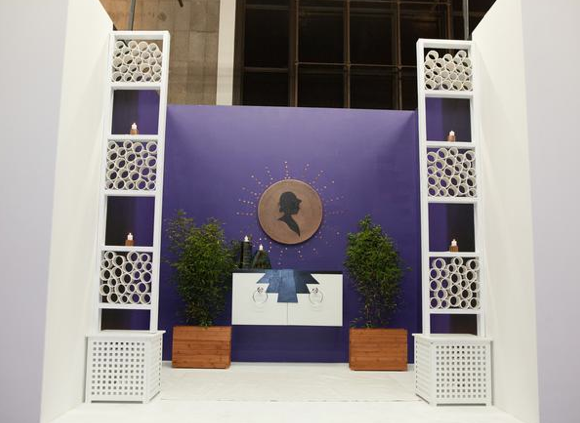 And here we have Bex's room. Let me just say, there is one color as a designer I have a hard time using and that color is purple. Don't ask me why it's so hard for me. Anytime a client asks for purple, lavender or aubergine or whatever you want to call it I get a sickening feeling in my stomach. I don't know why. I have worked with purple at clients request and it turns out pretty every time but I just have to be honest, it's not my color. Here Bex picked a blue shade of purple. It's not a bad color and it looks good on camera and she's wearing it. I love the copper silhouette, reminds me of those vintage silhouette necklaces and broaches. And I do appreciate she thought out of the box a little more than other contestants. The PVC pipe screens show her ability to reuse things in unexpected ways (which was part of the challenge but the judges didn't talk much about it in judging) Nice job Bex.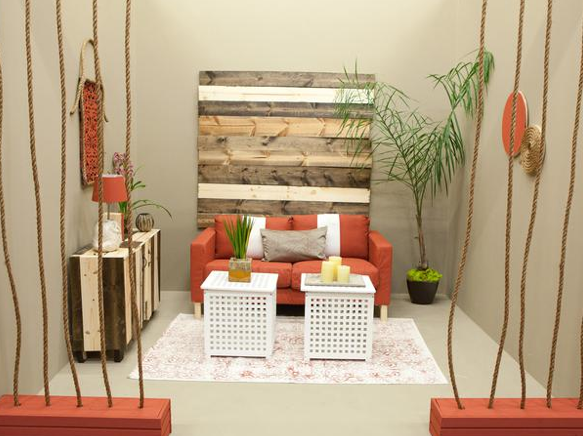 Here's Mikel. Out of all the rooms his room appears pretty bland and I think it has to do with the paint color. My biggest pet peeve in the spin-off White Room Challenge was the use of bland colors and unfortunately they came back again in Mikel's room. This is your chance to go big, not bland. The way he stamped his rug was great. The sofa is a reddish color, which is ok. I'm not loving this color pallet it feels a bit dated and traditional. I know Mikel is not dated or traditional. I wish he would have pulled his color pallet from this outfits because he dresses so well. The wood elements are ok for me. Nothing special. The rope detail was neat and shows hints of his creative talents. I just wish I saw all his talent come though not just hints. Not bad Mikel but I know you have more to show us.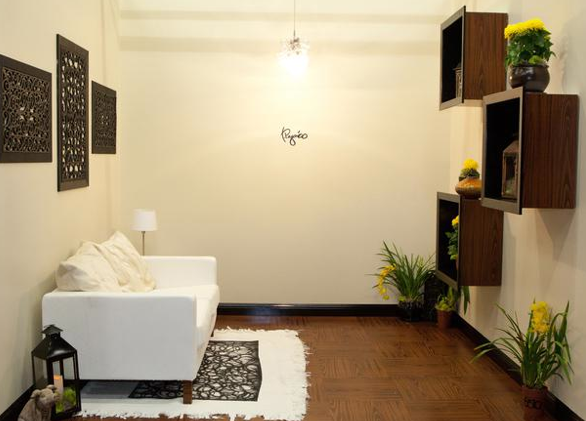 Luca. I am just going to be completely honest and say I highly dislike this room. I 100% disagree with the judges and think Luca should have went home. There is NOTHING special in this room. Ok wait the tiny light fixture was neat. The rest just bad. He used 80's oak color contact paper for the flooring… bad. And there a weird literal butter color on the wall, which clashes with the floors. This doesn't make me want to see more from Luca. I will say he's lucky he's getting another chance next week. Let see if he can live up to all this big talk from day 1.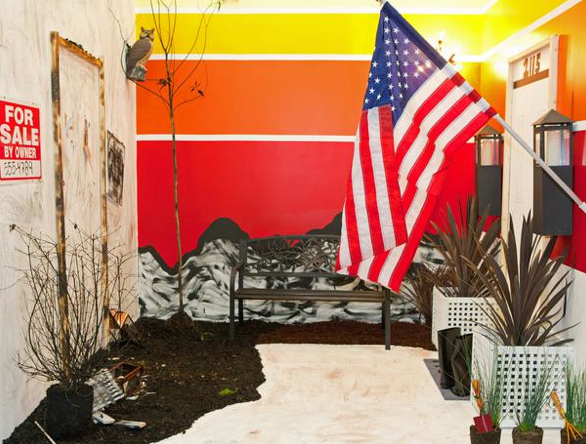 Ok Kris. Another room I'm not in love with. I also did not like his camera challenge. I will say the concept for this room was the best out of all the designers. But the room isn't living up to the concept for me. My husbands a firefighter and this really isn't something someone wants to see, a burned house. What about all those people who have lost their homes, or even worst loved ones in a fire, I'm sure they didn't appreciate this either. Then you though a flag into the mix. It's isn't representing Americana. Sorry, even though the concept was creative, the overall design was slightly offensive and I think Kris should have been in the bottom.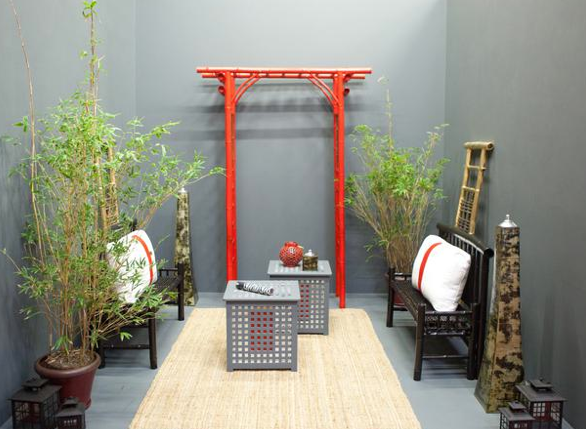 Jordan, Jordan Jordan! I'm really upset Jordan went home. I liked him on camera and I think he knew this wasn't his best work but he CLEARLY wasn't the worst. His concept wasn't great but at least he had one… Luca… The red bamboo arch shows me hints of his talent. He got busted by the judges for just buying items and putting them into the room, well I will say a lot of designers just keep the items they had and placed them into the room… so why is everyone picking on Jordan 🙁 I really don't have much to say, the room and concept is better than Luca's, Jordan reads on camera better than Luca. Jordan should have stayed.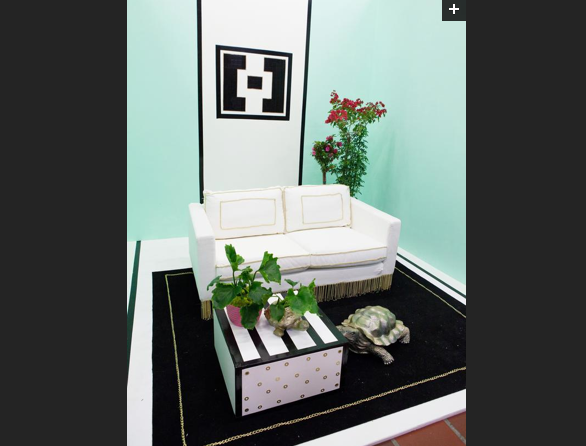 And here's Hilari. The mint green jewelry box. I like mint green, in fact thats the color that is on my nails right now. I just don't understand why she pinked mint for her jewelry bling bling concept. It isn't working.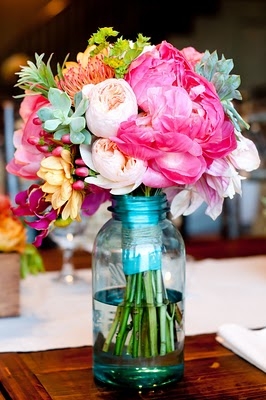 See mint can work in a color pallet. Here it's paired with pinks and yellows. I would love to do mint right in an interior… any takers!!? The fringe on the sofa was really her only good moment. Hilari mentioned she isn't handy, but no excuses lady. You knew this challenge was coming. She deserved to be in the bottom, but I respect the fact that she knew it wasn't her finest hour. I don't think she should have gone home… Luca…. did I mention Luca should have gone home!!?? But I do agree her room was in the bottom. Hillari I'm sure will bounce back, she's a smart and has a great personality on camera.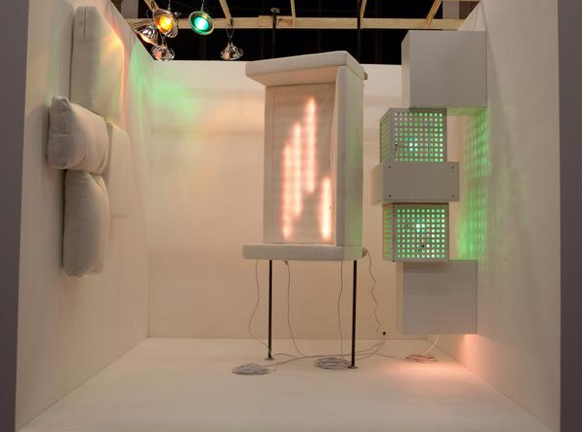 Last up Stanley. This room reminds me of Eli's Outers space underground room from White Room challenge. I think of lot of HGTV audience isn't going to understand this space, because it's so out of the box. BUT that's what David Bromstad asked for. I remember when we filmed my episode of White Room Challenge we were told don't do an art installation, but if you do stick a chair in it. That way it's coming from an interior design point of view. Well Stanley did that literally. He made a colorful light art installation and stuck a sideways sofa in it. Was it creative, yes, was it the best, no. But he intrigues me and I want to see more. I want to see if he can design a beautiful room, I can't tell yet.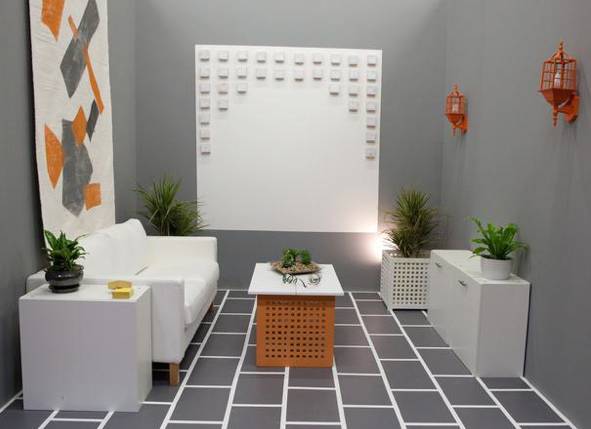 Last up Miera. Miera called me out for calling her room forgettable. I try to critique as honestly as I can, the good AND the bad however I think I did add a little salt in the wound because Miera's room was left out of the initial blog review on HGTV and for that I apologize. I will say when you go on TV be prepared for people to express their opinions… and most of the time it isn't nice. On White Room Challenge I totally loved my design however I read some not so nice reviews of my room.(in fact some some were down right mean) So if you want to make a career in TV I recommend you have thick skin OR just don't read the reviews. I do my best to be honest without being mean. Anyways onto Miera's room. It reminds me of Mikel's room. It's nice, but nothing special. Which was what I meant when I called it forgettable… nothing offensive but no real wow moments either. For what ever reason she had a hard time putting the blocks on the back wall. Dare I say glue gun or nail gun??!! That should have been an easy installation. I do like that she painted out a tile pattern on the floor so her walls didn't melt into the floor. And I do have to say I think everyone bought that white um er rug is it? It's in Britany's, Mikel's, Danielle's, Bex's and Miera's room. Miera did use it differently and hung it on the wall. I really hope to see Miera's style come out in a future challenge. So far I feel like she's playing it a little too safe.
Oh and I have to say how awesome was it to have Vanilla Ice as a judge. I was dying when he kept quoting himself. What did everyone else think, should Jordan have gone home? (NO) Who did you hate, who did you love… who's getting annoying on camera?!
-Bex