Back in 2011 I posted this recipe for NYE themed cupcakes and champagne jello shows. The recipe is actually really yummy and since I shared it before I had many readers, I decided to re-post my own post. Hope that's not against blog rules. BTW since the post is circa 2011 I believe that was like iPhone4 time frame so excuse the burly pictures. If I remake these this year I will be sure to reshoot proper photos!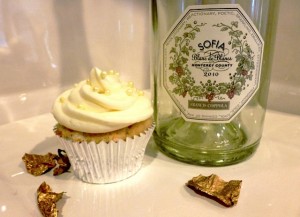 Here's your shopping list:
1/2 cup unsalted butter softened
1 cup granulated sugar
2 eggs
1 tsp vanilla
1 3/4 cups flour
1/2 tsp baking soda
1/4 tsp baking powder
1/4 tsp salt
1/2 cup sour cream
1/2 cup champagne, I used Sofia Blanc de Blancs sparkling wine
Preheat oven to 350 degrees. Mix together the softened butter and sugar until it's well incorporated and beat until light and fluffy. Then add eggs one at a time and beat the mixture well after each egg. Then add vanilla and beat the mixture some more to make sure all the ingredients are well mixed and light and airy. (there's a lot of beating involved in this recipe) This is a dense cupcake batter so I like to try to make it as airy as possible. Next in a separate bowl shift flour, baking soda, baking power and salt. Then in another separate bowl (yes you will have 3 bowls going on at one time) whisk together champagne and sour cream. Careful of the bubbles. Now add flour mixture and champagne mixture alternately to the butter mixture. Make sure to start and stop with the flour mixture. Then be sure to mix everything together really well. Spoon batter into cupcake pan with cupcake wrappers, fill the molds about 1/2 full. Bake 17-22 min… just until the cakes are starting to turn light brown on top and a toothpick comes out clean. Don't over bake or you'll be left with dry cupcakes.
I found that since the champagne crystalizes as you bake you will be left with little sugary crystals in your cakes… yummy.
For the champagne buttercream frosting:
3 tbsp. champagne or sparking wine (I used Sofia again it's my favorite sparking wine)
2 sticks of butter softened
2 1/2 cups confectioners' sugar
In an electric mixer, beat together soften butter and powdered sugar. Once your have nice thick and fluffy frosting slowly add the 3 tbsp. of champagne to the mixture mixing well. You can add more or less to taste just be sure if you add more to adjust the amount of powered sugar you add so you don't end up with watery frosting.
Put frosting in a pastry bag and just cut off the tip and frost cooled cupcakes (yes important be sure your cakes are cool this is a buttercream frosting and will melt on warm cakes) Then I topped with pastel yellow pearlized sprinkles to look like bubbles. (you can get this sprinkles from Michael's if you can't find in grocery store, I think Party City (coupons here) carries them too.) Make sure to keep your completed cakes in the refrigerator and serve and enjoy!
Then onto the champagne jello shots: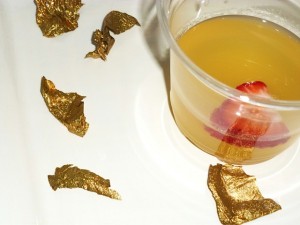 Shopping list:
2 packages Mixcheif by Jello, add your own juice… .25oz packages
pineapple juice (pasteurized, this is important or it won't set up)
champagne or sparking wine (again I used Sofia)
peach schnapps and/or St. Germain (this is an elderflower liquor it's super yummy)
sliced strawberries
This is what the jello package looks like: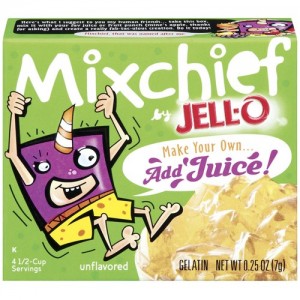 So here's what I did:
Combine 1/2 pineapple juice and 1/2 water and bring to a boil. Slowly mix in the 2 packages of jello and let boil while mixing for 3 minutes to be sure jello mixture is dissolved. Then take off heat. I added 1 1/2 cups champagne (with a little peach schnapps and St. Germain in the champagne mixture to sweeten it up) to the hot jello mixture, poor into cups, throw in a sliced strawberry and chill for at least 4 hours. Then ta-da, New Years Eve jello shots.
Just a note, you can't use fresh pineapple or the jello won't set due to the enzymes. Pineapple juice is pasteurized and the enzymes are killed during this process, and boiling the pineapple juice also breaks down the enzymes so it will gel.