As promised, I am posting a few of the pictures I took around the Las Vegas World Market Design Convention. Now where to begin. I spent a good 3 days walking showrooms and going to seminars and let me tell you I didn't even scratch the surface when it comes of the amount of products at this Market. It's that huge…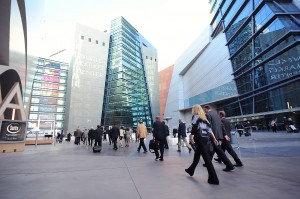 These are the 3 buildings, and they are about 16 stories each, and are FULL of showrooms. The good news is building A and building C have perminant showrooms and are open year round to the public. That's pretty awesome, most showrooms are only open to trade unless your with a designer, but not here in Vegas. So take advantage and come take a look. There is even a great little restaurant to have lunch at while you shop.
So I started the Market with a Trend Report hosted by Monica Pedersen. I shared a few of the trends here. Then on to the showrooms I went.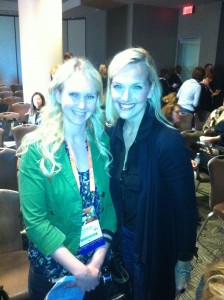 Four Hands is a permanent showroom. I love their stuff and they always have their new items at the Market so it's always a stop for me. I'm in love with this chair… it's a little mid-century inspired… and it's super comfy.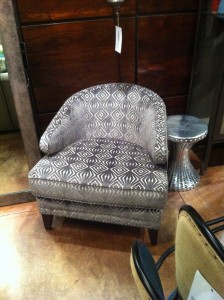 I loved the book wall art as well.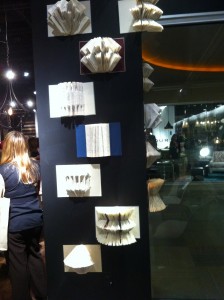 These mirrors are from Roost and the inside of the frame is lined with a metallic gold which reflects really pretty light. It's hard to see in this photos, but it's great inspiration for a DIY.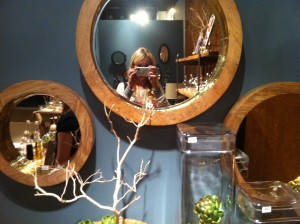 I also ran into the beautiful and talented Genevieve Gorder who has designed an awesome line for Capel Rugs Those are a few of her designs behind us, absolutely stunning.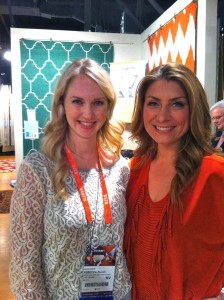 These pretty hot air balloons are by Authentic Models. So whimsical, I think they would look beautiful in a nursery.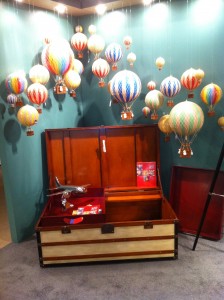 Priscilla Presley has a new line of furnishings and her line is super fun. A horse lamp… why not?? Very regal and fun.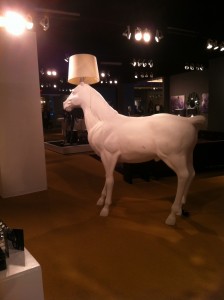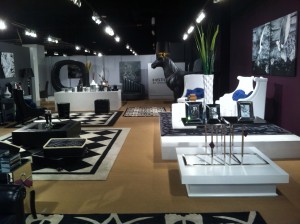 Onto Cyan, a new permanent showroom and I couldn't be more excited that they are permanent. They have been added to my favorites…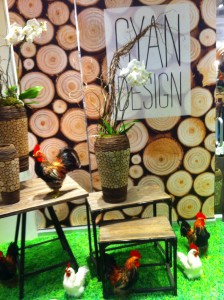 And look who was here, the handsome David Bromstad.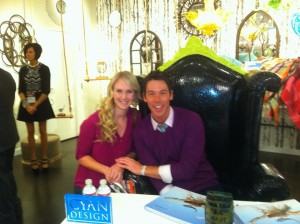 Some of the highlights from the Cyan showroom. The pig nose wall and the suspended lamps. Love their showroom. Love Love Love!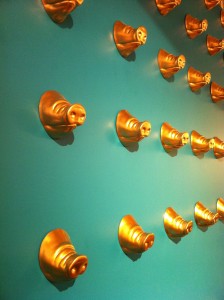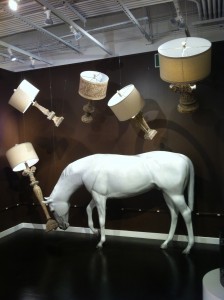 Last I snapped a picture of these chairs by Polart. Believe it or not, these are all plastic outdoor chairs. Imagine a pool with these as the lounge chairs. So fun.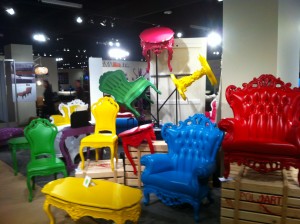 So I hope you enjoyed your peek into the Winter 2012 Las Vegas World Market Design Convention. I haven't forgotten about my dollhouse either, just finishing up the exterior and the last few touches on the interior. Almost done I promise.